Great MU-MIMO
Technical Specifications:
What makes TP-Link Archer C5400X stand out from the competition? We think it's the right combination of price and efficiency, coupled with one of the best MU-MIMO on the market (we already touched upon the MU-MIMO).
This is a Tri-band router, which means it's equipped with an extra 5 GHz channel that you can assign exclusively for your gaming needs. On top of that, you get a myriad of LAN (8 ports!), WAN, and USB ports.
What about the WiFi speed? Actually, it's pretty good – clocking up to 2187 Mbps on the 5 GHz band, which ranks it highly among other devices in this price range. The 2 GHz channel is also quite reliable - its speed can get up to 1000 Mbps over a good range.
Do you prefer to play using a VPN service (or maybe you need it to access certain region-locked games or portals)? Then, you will avail of the OpenVPN feature. It's a dedicated technology that can fasten up the virtual network for up to 5 times.
On the downside, this gaming router doesn't feature an advanced tech to decrease latency like its competitors. However, TP-Link Archer C5400X should be more than enough for most multiplayer FPS games.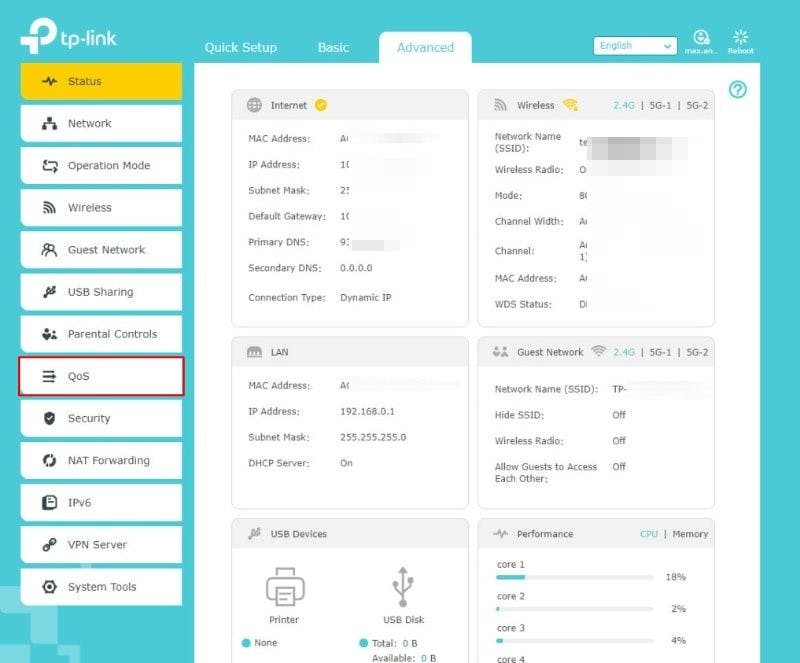 TP-Link Archer C5400X web interface
Speed: 2,187 Mbps (5 GHz) | 1000 Mbps (2.4 GHz)
WiFi: 802.11 a/b/g/n/ac | 2.4 GHz, 5 GHz
Ports: Gigabit Ethernet LAN – 8x | Gigabit WAN – 1x | USB 3.0 – 2x
Antennas: 8
Processor: Quad-Core 1.8 GHz
Dimensions: 11.34 x 11.34 x 7.24 in