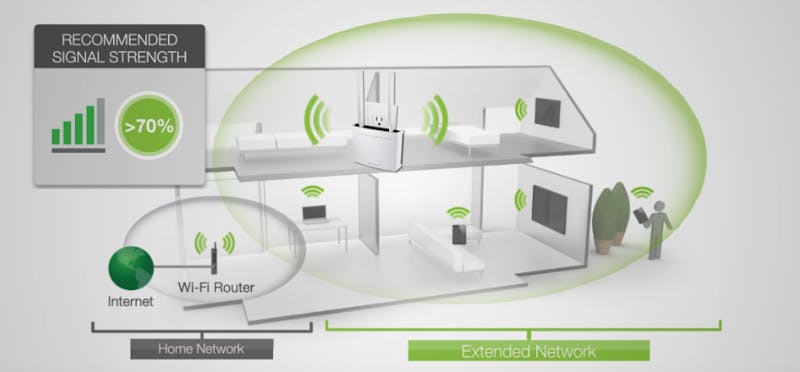 The device works by capturing existing WiFi signals in your home or office and then rebroadcasting them. Small in size, the WiFi extender can expand coverage to areas where your router either doesn't reach at all or doesn't reach well. It catches weak signals and retransmits a stronger one in return.
It's important to remember: WiFi extenders boost the existing signal, but won't make your actual WiFi Internet connection faster. Your Internet service and WiFi router capabilities determine this. Therefore, if your concern is overall WiFi speed, consider upgrading your router or Internet service. Generally speaking, 802.11n WiFi routers are fine for most home users, while 802.11ac is even better but may be more than some users need.  On the other hand, routers supporting only older WiFi standards, like 802.11a, 802.11b, and 802.11g may cause noticeable performance issues. Newer 802.11ac extenders have the benefit of being backwards compatible with many other standards. 
Something to keep in mind after installing one: Check your device settings if you notice continued weak connections. Your phone, laptop or tablet might not recognize the WiFi extender because it will stay connected to your router as a default. The way to change this is by manually switching from router to booster.